3 minutes reading time
(532 words)
Tuisonderrig groei sterk in Suid-Afrika
Verskeie berigte het onlangs bevestig dat tuisonderrig toenemend gewild word in Suid-Afrika, asook in die res van die wêreld. Volgens aanduidings kan daar oor enkele jare dalk soveel as 360 000 tuisleerders in Suid-Afrika wees.
In Die Burger van 23 April verskyn 'n artikel met die titel "Tuisonderrig al hoe gewilder". Vanuit die VSA word berig dat die aantal tuisleerders 75% gegroei het oor die afgelope 14 jaar. In 2011 was daar reeds 2.3 miljoen tuisleerders in die VSA. In Australië het die getal tuisleerders van 2008 tot 2012 verdubbel. Selfs in 'n land soos China, waar tuisonderrig nog grotendeels 'n onbekende verskynsel is, is daar 'n groeiende belangstelling in hierdie onderwysmodel.
Spesifieke tuisleerders is ook besig om ongekende bekenheid te verwerf. Dominic Johannson is die seun van 'n Sweedse egpaar wat in 2009 op 7-jarige ouderdom van sy ouers weggeneem is, omdat hy tuisonderrig ontvang het. Hierdie saak het wêreldwyd opspraak gewek. 'n Google soektog vir "Dominic Johannson" lewer 2.3 miljoen soekresultate op, in vergelyking met "Steve Hofmeyer" wat slegs 725 000 resultate lewer of "FW de Klerk" wat 918 000 resultate lewer. Die Romeike gesin het in 2010 politieke asiel in die VSA gekry, op grond daarvan dat tuisskoolgesinne in Duitsland krimineel vervolg word. Tans word hierdie asiel bestry deur die Obama regering. 'n Petisie aan die Obama regering waarin versoek word dat die asiel permanent gemaak word het meer as 126 000 handtekeninge ontvang.
Die hoofredes waarom ouers kies vir tuisonderrig is bekommernisse oor die skoolomgewing (veiligheid, dwelms, druk van portuurgroepe) en ongelukkigheid met akademiese onderrig by skole. Hierdie redes is hoofsaaklik van toepassing op publieke skole, maar soms ook op privaatskole.
Daar is algemene konsensus dat publieke skole in Suid-Afrika grotendeels disfunksioneel is, en elke jaar nog verder agteruitgaan, ondanks die groot planne van die Minister van Basiese Onderwys en biljoene rande se belastingsgeld wat sy spandeer. Suid-Afrika is egter nie uniek nie. Oral in die wêreld is publieke skole besig om te verval. Die onderwysmodel waarin skole deur belastinggeld befonds word, deur politici beheer word en deur vakbondlede bedryf word is eenvoudig nie in staat om die volgende generasie op te voed vir die 21ste eeu nie. Oral oor die wêreld word dit bevestig deur groeiende jeugwerkloosheid.
Baie ouers wat vertroue verloor het in publieke skole kies vir tuisonderrig. Hierdie onderwysmodel is suksesvol, omdat kinders hulle onderwys ontvang in 'n veilige omgewing by mense met wie hulle 'n persoonlike verbintenis het. Ouers kan die leerplan aanpas volgens die unieke behoeftes van elke kind, elke kind kan vorder teen sy eie tempo, en geen kind raak "agter" nie.
Tans word daar beraam dat daar ongeveer 90 000 tuisleerders in Suid-Afrika is. As tuisonderrig in Suid-Afrika groei tot die vlakke wat dit reeds in die VSA bereik het, word beraam dat die aantal tuisleerders binne enkele jare kan groei tot ongeveer 360 000. Ouers wat ernstig is oor die onderwys van hulle kinders kan nie bekostig om tuisonderrig te ignoreer nie. Die webwerf www.tuisskolers.org poog om ouers te bemagtig om 'n ingeligte besluit te neem oor tuisonderrig en hulle in aanraking te bring met opvoedkundige verskaffers wat relevante hulpmiddels verskaf.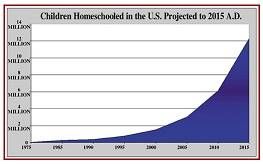 Stay Informed
When you subscribe to the blog, we will send you an e-mail when there are new updates on the site so you wouldn't miss them.
Comments
No comments made yet. Be the first to submit a comment
Legal & Research
Research on home education consistently proves that home learners
+ View
Home schooling was recognized in 1996 in the SA Schools Act.
+ View
History of home education in South Africa (Wikipedia article)
+ View
Centres
Homeschool, micro-school, learning centre, unregistered private
+ View
Important considerations when starting a learning centre
+ View
There are various ways to find learning centres. Since there is
+ View