Homeschool Expo's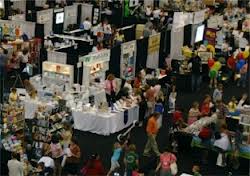 The 2017 home education expo's have been finalised. The table below provides the dates and links to the booking forms. More details on the expo's can be found in the booking forms.

These expo's have proven themselves over the years as one of the most efficient ways to expose your organisation to the home education market.

Date
Expo
Contact
Reservations
Comment
15-17 June
Kragdag Educational Expo
Sone Vosloo at



This email address is being protected from spambots. You need JavaScript enabled to view it.



OR

087 231 1644 
Click here for booking form
This expo is part of the larger expo on
renewable energy and independent living.
16 September
Johannesburg Education Expo
Click here for booking form
Expo + Seminars + Workshops
14 October
Cape Town Educational Expo
Click here for booking form
Expo + Seminars + Workshops

--------------------------------------------------------------------------------------------------
Die 2017 tuisonderwys ekspo's is gefinaliseer. Onderstaande tabel verskaf die datums en die skakels na die besprekingsvorms. Meer inligting oor die ekspo's kan gevind word in die besprekingsvorms.

Hierdie ekspo's het hulleself oor die jare bewys as een van die mees effektiewe maniere om organisasies bloot te stel aan die tuisonderwysmark.


Datum
Ekspo
Kontak
Besprekings
Opmerking
15-17 Junie
Kragdag Opvoedkundige Ekspo
Sone Vosloo by



This email address is being protected from spambots. You need JavaScript enabled to view it.



OF

087 231 1644 
Click here for booking form
This expo is part of the larger expo on
renewable energy and independent living.
16 September
Johannesburg Opvoedkundige Ekspo
Click here for booking form
Expo + Seminars + Workshops
14 Oktober
Cape Town Opvoedkundige Ekspo
Click here for booking form
Expo + Seminars + Workshops
Legal & Research
The information provided by the media and government officials on the
+ View
Research consistently proves that homelearners perform better.
+ View
History of home education in South Africa   Home schooling (which
+ View
Centres
Important considerations when starting a learning centre
+ View
Regulatory environment & support for learning centres
+ View
Since there is no central registry of learning centres, they are
+ View
Q & A
There are a number of ways that homelearners can get a matric. The most popular form of matric is the academic matric. W...
There is no curriculum that is the best curriculum for all families. Parents must have a look at as many as possible cur...
The sahomeschoolers.org website has a list of selected free resources that are available, as well as a service where hom...