Homeschool Curriculums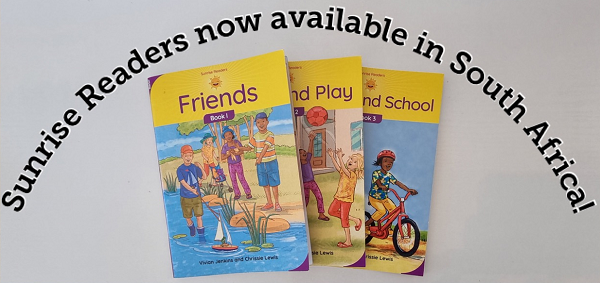 Parents and educators – these popular reading books with outstanding track record of success are available in South Africa for the first time ever - at affordable prices!

The Sunrise Readers are a reading scheme consisting of a delightful series of carefully structured reading books, to be used in the first years of a child's  education.
The vocabulary accumulates gradually and the children are soon reading lively, interesting stories.
The Sunrise Readers consist of twelve books, taking your child from pre-reading to reading competency. They are different from other similar available reading schemes in that their context is local, and relevant for the children of Africa. Also, they have a well-proven track record of success with children of all cultures in Zimbabwe - their reputation having been established for over thirty years. Our simple, user-friendly approach to teaching reading has made them effective and very popular with parents, children and teachers alike.
The step-by-step parents'/teachers' manual is available to read online, or as a free downloadable PDF on our website – along with many other free helpful resources like games, word cards and work sheets.
Visit our website: https://sunriseliteracy.com/

Contact us by email at: This email address is being protected from spambots. You need JavaScript enabled to view it.

Published in Cape Town by Sunrise Educational Publishing (Pty) Ltd 
Legal & Research
Research on home education consistently proves that home learners
+ View
Home schooling was recognized in 1996 in the SA Schools Act.
+ View
History of home education in South Africa (Wikipedia article)
+ View
Centres
Homeschool, micro-school, learning centre, unregistered private
+ View
Important considerations when starting a learning centre
+ View
There are various ways to find learning centres. Since there is
+ View