Meetings between homeschoolers & government
Verslag van die Vergaderings van die Gauteng Onderwys Departement gehou op 15 September 2004 te Johannesburg en 16 September 2004 te Vereeniging.


Inleiding

Hierdie vergaderings is op baie kort kennisgewing geadverteer in 'n koerant wat ek nie lees nie. Gelukkig het die tuisskool gemeenskap se strukture my gou op hoogte gebring.

Doel van die vergadering.

Volgens die kennisgewing is die doel van die vergadering "to affirm the right of parents or guardians to offer home education and inform them about the registration process."

By beide die vergaderings wat ek bygewoon het is dit baie duidelik gestel. Ouers het die reg om hulle kinders tuisonderrig te gee. Maar daar is voorwaardes aan verbonde. En hierdie voorwaardes is deur die departement opgestel volgens hulle goedunke. Sover ek weet is geen tuisskoler geraadpleeg om te weet wat hulle behoeftes is nie. Hierdie feit het vir my deurentyd deur geskemer. Die Departement verstaan nie regtig uit watter hoek tuisskolers kom nie. Vir hulle is dit 'n skool by die huis met 'n bywonings register en geskeduleerde skool gaan tye.

Die verloop van die vergadering.

Talle van die ander het alreeds die details oorgedra. Ek wil meer konsentreer op wat dalk hier en daar deur geskemer het.


Die vorm van die vergadering was uiters onbevredigend. Die fasiliteerder het dit baie duidelik gestel dat hulle graag wil hoor van ouers. Die vorm van die vergadering het juis gepoog om sulke gesprek ten alle koste te verhinder. Tydens Me Nkotoe se aanbieding in Vereeniging het die persoon langs my 'n opmerking in my oor gefluister na aanleiding van 'n stelling wat sy gemaak het. Sy het die sagte gefluister onmiddelik geidentifiseer en die fasiliteerder gevra of sy beskerm is. Die fasiliteerder het ons onmiddelik aangespreek en dit duidelik gestel dat ons respek moet hê vir die spreker. Dit was waarlik nie ons bedoeling om haar te met disrespek te behandel nie. Tog het iets van 'n die arrogansie deur geskemer en ons het besef: hier praat die departement en ons luister.
Sekere stellings wat me Nkotoe gemaak het het duidelik gegrens aan ideologiese uitsprake. Sy het bv. dit duidelik in beide die vergaderings gestel dat die staat verantwoordelikheid aanvaar vir ons kinders en dus aanspraak kan maak om hulle reg op te voed. Volgens my oortuigings is ek die verantwoordelike persoon saam met my vrou vir ons kinders. Ons koop hulle kos en en klere en kan daarom seker ook kies watter opvoeding hulle kry. Dit is slegs in omstandighede waar die pa en ma en selfs die familie nie meer verantwoordelikheid kan of wil aanvaar vir kinders nie, dat hulle in die staat se sorg geplaas kan word. Daarom beskou ek dit as onregverdige inmenging in my God gegewe roeping om my kinders op te voed.
Net om die saak verder te onderstreep was dit vir my opmerklik in die Vereeniging vergadering dat sy die ouers aangespreek het as "Colleagues". Ek het 'n idee dat hulle gesprekke met die ouers hulle tot die oortuiging gebring het dat hulle die ouers sal moet wen en betrek om hulle plan suksesvol deur te voer. Ek weet nie hoeveel van die ouers het daarvoor geval nie maar ek het beslis nie.
Daar is heelwat terminilogie gebruik wat op sigwaarde mooi klink maar wat as ons so 'n bietjie dieper gaan kyk dalk iets heeltemal anders kan beteken. Ons kinders moet goeie burgers wees, hulle moet kan werk en die land help opbou. Dit is mooi drome wat ek self vir my kinders koester en baie moeite doen om hulle te leer en ek hoop ek sal suksesvol wees in my opvoeding. Wat bedoel die departement as hy hierdie dinge sê? Ek is nie seker dit is dieselfde dinge as wat ek bedoel nie. Die regering se standpunt met betrekking tot aborsie, die huwelik, die rol van die man en vrou, wat reg en verkeerd is, verskil hemelsbreed van my as gelowige sin. My en die staat se waardes rondom hierdie dinge is ver verwyderd van mekaar. As die staat hierdie terminilogie inklee, dan word my waardes noodwendig uitgesny en afgemaak as oud modies en nie meer geldig nie. Een van die fundamentele redes hoekom ons tuisskool is juis omdat ons die waardes en norme wat vir ons belangrik is wil oordra.
Die departement het in beide aanbiedings maar veral in die een in Johannesburg dit baie duidelik gestel dat tuisskolers wat nie registreer nie vervolg sal word en dat hulle voor die hof gedaag sal word. Die straf is 6 maande gevangenis straf. Kerry Devine het dit duidelik in Johannesburg gestel dat die Departement sal optree. Wat staan ons te doen? My probleem is dat as ek registreer stel ek myself oop vir allerhande dinge waarvoor ek nie lus het nie. Inmenging in my huis deurdat 'n beampte my huis kom inspekteer, verslae en dokumentasie wat nie eers deur skole op datum gehou word nie, en vele meer.
Die krisis vir my is wat die departement oor twee of drie jaar gaan doen met die inligting tot sy beskikking. Die aksie is die begin van 'n lang proses wat ten doel het dat die departement tuisonderwys totale beheer uitoefen oor elke tuisskoler se doen en late. Die inisiatief van ouers kan heeltemal in die slag bly.
Volgens Me Nkotoe het 550 tuisskolers reeds geregistreer. Dit is maar 'n druppel in die emmer. Ons sal moet kyk hoe suksesvol hulle is. Die uitdaging aan ons is om die Departement tot verantwoording te roep totdat hulle optree volgens wat die wet aan hom voorskryf .
Op 'n vraag wat gevra is oor kurrikulum by die Johannesburg vergadering het Kerry Devine na ACE en Cambridge verwys as nie Afrika gefundeerd nie en daarom nie aanvaarbaar nie. Tydens die Vereeniging vergadering het ek 'n opvolg vraag gevra en sy het gereageer dat daar 'n misverstand is. Sy dink aan kirrikulum anders as ons en bogenoemde kirrikulum's is aanvaarbaar met aanpassings vir Suid Afrikaanse omstandighede. Dit het my laat besef dat ons as tuisskolers en die Departement in twee verskillende wêrelde leef. Ek dink nie een van hulle was al bloot gestel aan tuisskool situasies nie. Hulle kom uit 'n burokratiese voorskriftelike omgewing met die doel om vir jou te sê wat om te doen en nie te doen nie.

Slot.

My belewenis van die vergaderings is dat die departement besig is om homself te posisioneer om groter beheer uit te oefen op tuisskolers. Dit kan later groter gevolge hê deurdat tuisskolers geen onafhanklikheid gaan oorhê nie en gedienstig die Departement se lakeie moet wees. Dink dus mooi wat die gevolge van u registrasie gaan wees.

Groete

Rudi Coertzen

(Voorsitter) Vereniging van Tuis Onderwys.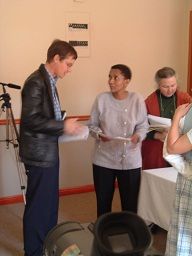 Op die foto gesels Rudi Coertzen met Me Nkotoe tydens die vergadering in Westonarea.
Legal & Research
Research on home education consistently proves that home learners
+ View
Home schooling was recognized in 1996 in the SA Schools Act.
+ View
History of home education in South Africa (Wikipedia article)
+ View
Centres
Homeschool, micro-school, learning centre, unregistered private
+ View
Important considerations when starting a learning centre
+ View
There are various ways to find learning centres. Since there is
+ View