Maths, Science, Technology & Accounting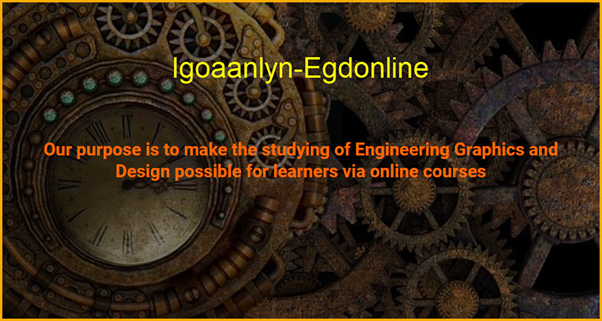 At IGOaanlyn/EGDonline the student will:
Have full access to educator support

Work flexible hours

Learn to draw

Teaches according to skill and not according to grade
Have full access to educator support
IGOaanlyn/EGDonline has a qualified educator with years of teaching experience in Engineering Graphics and Design as well as in Mechanical Technology. Part of his experience includes marking the final grade 12 National Senior Certificate (Matric) exam. He has found a method to help Engineering Graphics and Design learners outside the classroom to achieve their full potential.
Finishing his National Higher Education Diploma at NKP (Normaal college Pretoria) in 1994 he also furthered his education at the Pretoria Technikon in Animal Production, another passion of his. Today he is actively teaching grades 8 to 12 in Mechanical Technology as well as Engineering Graphics and Design and he is also a father of 4 homeschooled daughters.
With our Tutor, help is always available whenever the student gets stuck or needs answers.
Work flexible hours
The workflow process of the course is at the student's own pace.
Learn to draw
The student does not need any background knowledge of drawing to take Engineering Graphics and Design as a subject.
Our Tutor will go step-by-step with the student using
Drawing equipment

Videos that allows the student to watch and learn how to draw and use the drawing equipment

3D models and visual examples help the student visualize before reproducing said object in a drawing.
Be placed according to skill and not according to grade
Before starting a specific course, the student will do a placement course with our tutor. Our tutor will then determine which course will be better suited for the student. Usually, the students enjoy this very much! All that the student needs for doing this exercise is a pencil, ruler, and eraser.


EGD Workbooks
We have workbooks available that are based on the CAPS curriculum but our course is not limited to this curriculum. The workbooks are available in Afrikaans and English and have all the lessons necessary for the entire course.
The requirements for our courses:
 All that the student needs to partake in any of our courses are:
A computer to watch videos on

A stable internet connection

WhatsApp or e-mail

A free Dropbox account and

Drawing equipment (contact our tutor for details)
Why you should choose IGOaanlyn/EGDonline
 We believe that we have the best personal assistance for every student out there. With our Tutor that is just a phone call, Whatsapp, or e-mail away, there is no way that the student can fall behind. Our hands-on approach has proven itself.
Engineering Graphics and Design.
Email Johan at This email address is being protected from spambots. You need JavaScript enabled to view it.
Phone: 083 6542660
Legal & Research
Research on home education consistently proves that home learners
+ View
Home schooling was recognized in 1996 in the SA Schools Act.
+ View
History of home education in South Africa (Wikipedia article)
+ View
Centres
Homeschool, micro-school, learning centre, unregistered private
+ View
Important considerations when starting a learning centre
+ View
There are various ways to find learning centres. Since there is
+ View