Homeschool Curriculums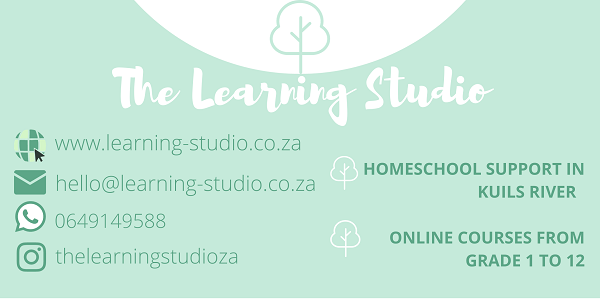 🚀
Elevate Your Child's Homeschooling Journey with The Learning Studio in Kuils River, Cape Town!

📚
Attention Busy Homeschooling Parents in Kuils River and beyond!

🌟 Are you juggling work and homeschooling? Are you looking for a learning centre that can support your child exactly the way you would at home? Discover the ultimate support system for your child's education at The Learning Studio – where learning meets innovation! 🎓✨
Why Choose The Learning Studio?
🔍 Expert Monitoring and Support: We stand by your child every step of the way, ensuring they grasp every concept. Our tutors are here to answer questions and provide guidance while they watch videos and complete activities.
🎯 Personalized Tutoring: If a topic feels tricky, our tutors jump in! We offer personalized tutoring sessions, ensuring your child fully understands every subject.
📚 Comprehensive Resources: We bridge knowledge gaps with tailored printed resources and engaging videos, making learning exciting and accessible.
⏰ Time Management Mastery: We teach essential time management skills, empowering your child to balance study and play effectively.
📝 Exam Prep Expertise: Prepare for exams with confidence! Our expert guidance helps your child study efficiently, ensuring they're ready to excel.
🔐 Think Digital Academy Exam Invigilation: For Think Digital Academy students, we provide a secure exam environment, ensuring integrity and fairness during tests.
Empower your child with the tools they need to thrive academically and beyond. Enroll now and watch them flourish! 🌱✨
Visit us on www.learning-studio.co.za or WhatsApp us on 0649149588 to enrol now
🚀 Unlock Your Child's Potential with The Learning Studio Online Courses! 📚
Attention Parents of Think Digital Academy and other online curriculum users wordlwide!
Are you ready to enhance your child's educational journey? Look no further! The Learning Studio proudly presents our Grade 1 Supplementary Course, expertly crafted to complement and enrich the Think Digital Academy Grade 1 CAPS curriculum. Imagine never having to search online for extra worksheets and activity books again. We're doing the hard work for you!
Why Choose The Learning Studio Online Courses?
🔍 Bridging Educational Gaps: Our Grade 1 course is strategically designed to fill any gaps left out by online curricula, ensuring a well-rounded and comprehensive learning experience.
🎓 Grade 1, 2, and 3 Compatibility: Think Digital Academy parents, our course isn't just for Grade 1! Use it for Grades 2 and 3 to gauge your child's academic readiness and ensure they're on par with mainstream school standards. We also use this course to as a starting point when working with isiXhosa first language learners in learning to read English and Afrikaans..
📚 In-Depth Learning: Dive deep into blending, reading, handwriting, and Afrikaans with our engaging videos and detailed resources, making learning both enriching and enjoyable.
🚀 Future-Ready Education: Stay tuned! We're expanding up to Grade 12 and beyond, equipping your child with education, essential life skills and preparing them for the challenges of adulthood.
🌟 Exciting News Ahead! Keep an Eye Out! 🌟
Parents, this is just the beginning! Watch out for our upcoming courses and digital products, all centered around lifelong learning. Your child's educational journey with us is bound to be transformative!
Ready to Elevate Your Child's Learning Experience? Act Now!
👉 Click here to explore our Grade 1 Supplementary Course and stay updated on upcoming courses. Your child's brighter future starts here!
Don't miss out on this opportunity to provide your child with a world-class education. Join us at The Learning Studio, where every lesson is a step toward a brilliant future! 🌟🎓 #LearningStudioMagic
Join The Learning Studio Today
Visit us on www.learning-studio.co.za or WhatsApp us on 0649149588 to enrol now
Legal & Research
Research on home education consistently proves that home learners
+ View
Home schooling was recognized in 1996 in the SA Schools Act.
+ View
History of home education in South Africa (Wikipedia article)
+ View
Centres
Homeschool, micro-school, learning centre, unregistered private
+ View
Important considerations when starting a learning centre
+ View
There are various ways to find learning centres. Since there is
+ View