Homeschool Curriculums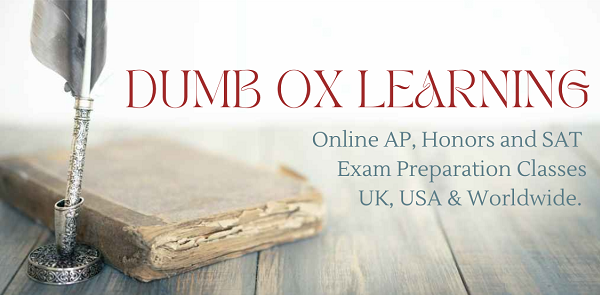 Dumb Ox Learning offers Advanced Placement exams. (APs)
What are AP exams?
They are American exams offered by the College Board. Students in America and many other countries in the world sit these exams.
Why do AP exams?
United Kingdom
You've probably heard of A-levels.. they are similar to APs, in terms of university entrance, but their advantage is that APs are only one year course as opposed to two. For good UK universities you need 3 A Levels or 3 APs. As APs are only a one year course they are much more straightforward to do.
USA
In the US you need APs to gain entry to highly selective colleges. Many US universities don't require APs, but if you have them your application will certainly look more impressive and you get college credit for them. So the standard is an AP gives you 3 college credits.
Other countries
Many other countries accept these exams for university entrance. The list on the College Board site of those that do is very long!
You may be enrolled in an on-line school, following a homeschool program or designing your own High School Diploma, and need other exam qualifications. Dumb Ox Learning offers full school year AP preparation classes to homeschool students.
APs are a great way to achieve qualifications for University entrance requirements, and also earn high school credits as honors courses.
The classes are online so can be taken from anywhere and every lesson is LIVE, a huge advantage to a typical student where interaction and engagement can benefit success!
Our AP courses run from late August to May and have excellent UK and US teachers alongside motivated classmates. Each course is designed by the teacher with a view to improving the learning process. It includes reading, interactive activities, incentives to motivate students, and regular contact with parents.
Dumb Ox Learning is run by two experienced homeschool mums who have had 7 children each, who have completed High school Diplomas and then gone onto University.
In addition to APs, we also provide SAT exam prep courses and IGCSE Math courses. The next dates for these are 29th August for 13 weeks of SAT prep and Sept 6th for a 33 week IGCSE Higher Math Prep course.
Come on board with us!
For more information and sign up forms please contact Helen and Jenni:
This email address is being protected from spambots. You need JavaScript enabled to view it.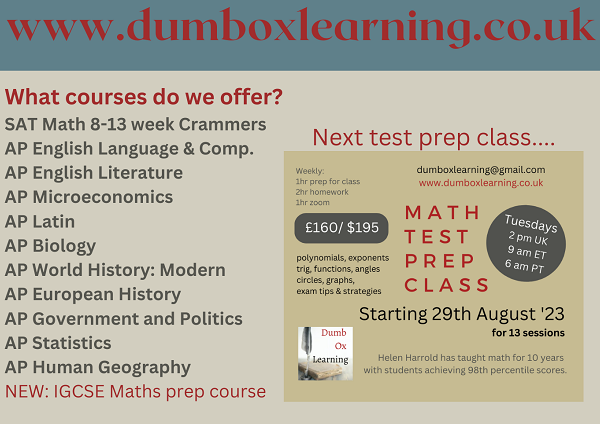 Legal & Research
Research on home education consistently proves that home learners
+ View
Home schooling was recognized in 1996 in the SA Schools Act.
+ View
History of home education in South Africa (Wikipedia article)
+ View
Centres
Homeschool, micro-school, learning centre, unregistered private
+ View
Important considerations when starting a learning centre
+ View
There are various ways to find learning centres. Since there is
+ View