3 minutes reading time
(656 words)
What education can change the world?
A commonly used quote in education is from Nelson Mandela : "Education is the most powerful weapon which you can use to change the world." Few presentations on education do not contain this quote at some point or another.
Because of a general believe in the transformative power of education, it is the largest item on the national budget of South Africa. Many corporations are deeply involved in education as part of their contribution to social upliftment. Financial institutions offer savings plans to enable parents to afford a good education for their children.
While I was waiting in a long queue at one of these financial institutions, a video related to education was displayed. The video contained images of books in a library, pen and paper, blackboards and chalk, children of the same age in uniform, teachers, classrooms, desks, children sitting in rows, etc. ... Education was portrayed in terms of images that would all be familiar to a general public of 100 years ago. This illustrates that the form in which education is delivered today has not changed for more than 100 years.
The method of education used in public schools and most private schools is based on CAPS, which uses a curriculum where knowledge is divided into subjects and grades and monitored through standardized assessments. This way of educating was developed during the industrial revolution to serve the needs of the industrial and colonial societies of more than 100 years ago.
Society has dramatically changed over the last 100 years. However, government and corporations believe that society can be transformed by a type of education of which the form and method were designed for a society that does not exist anymore. It is especially ironic that corporations that spend billions on transforming to survive in a digital economy, believe that a type of education totally unaffected by digitization can transform society.
There is probably much truth in the statement by Nelson Mandela, however there is no reason to believe that the statement applies to the type of education supported by the state and corporations. There is more reason to believe that it applies to other types of education.
Dr. Sugatra Mitra, famous for his "hole in the wall" experiment has found that it was possible for disadvantaged children from the slums of India to gain literacy and computing skills outside a teacher-directed classroom setting.
Home education is one type of education outside the classroom. It is currently the fastest growing type of education internationally. It not only produces better academic results but also influences society. It strengthens the building block of society, namely the natural family, because family members spend more time together. Once these families have taken the responsibility for education, it fosters a culture of independence and these families are increasingly adopting a lifestyle free from state interference in other aspects of life, such as health, nutrition, security and electricity.
According to prof. Jonathan Jansen, the South African school system is falling into a sinkhole of mediocracy. Under such circumstances one would expect that the state would explore other types of education with a better record of success. Something like the Finnish education system, that is generally regarded the best in the world. Finnish public schools have recently abolished the use of subjects and makes almost no use of standardized assessments.
Unfortunately the opposite seems to be the case. In stead of fixing the public school system, the state attempts to make home education and private schools look like state education. The new home education policy planned by the Department of Basic Education aims to transform home education into a mere alternative delivery channel of state education. If parents allow the state to achieve this goal, then homeschooled children might also join many other children in the sinkhole of mediocracy.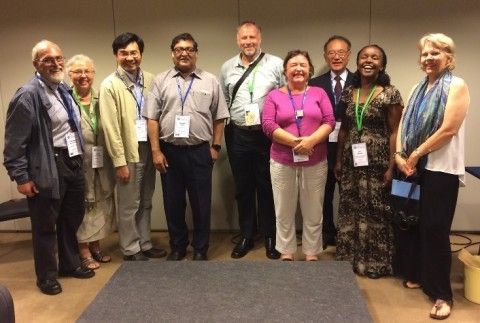 Photo : Sugatra Mitra (4th from left) and the author (5th from left) during Global Homeschool Conference in Rio de Janeiro in 2016
Stay Informed
When you subscribe to the blog, we will send you an e-mail when there are new updates on the site so you wouldn't miss them.
Comment for this post has been locked by admin.
Legal & Research
Research on home education consistently proves that home learners
+ View
Home schooling was recognized in 1996 in the SA Schools Act.
+ View
History of home education in South Africa (Wikipedia article)
+ View
Centres
Homeschool, micro-school, learning centre, unregistered private
+ View
Important considerations when starting a learning centre
+ View
There are various ways to find learning centres. Since there is
+ View