Tertiary Education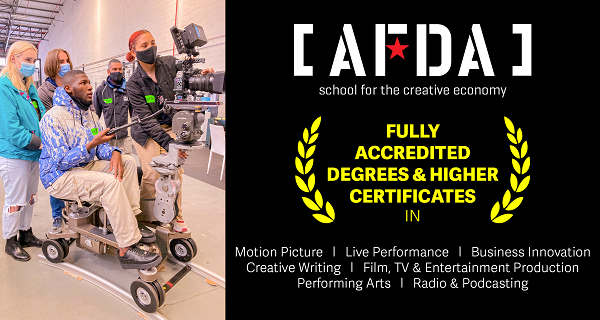 AFDA is one of the leading outcomes-based film schools in the world.
It offers fully Accredited Degrees and Higher Certificates in Film, Performance, Entertainment, Business & Technology
* (homeschool-friendly entry requirement and recognition of prior learning)
https://afda.co.za/admissions/entry-requirements/
AFDA is a niched private Tertiary institution and is registered by the Department of Higher Education and Training (DHET) and the South African Qualifications Authority (SAQA). All campuses are fully equipped and driven by rich content delivered by their 260 full-time academic and administrative staff plus 200 visiting lecturers and industry leaders who contribute to the learning landscape.
AFDA has four campuses across South Africa, located in Cape Town, Johannesburg, Durban, and Gqeberha. Each campus accommodates a diverse mix of students and provides a unique collaborative learning environment.
Go onto our website http://www.afda.co.za  to view which courses are offered and which of the four campuses.
Did you know that there are many award-winning AFDA Alumni? The 5 200 alumni are highly skilled and well networked and make a significant contribution to the growth of the local entertainment industry.
AFDA is the perfect institution for tomorrow's creative leaders, visionaries, and artists.
Register now and join the 2 500 students currently enrolled with AFDA
Legal & Research
Research on home education consistently proves that home learners
+ View
Home schooling was recognized in 1996 in the SA Schools Act.
+ View
History of home education in South Africa (Wikipedia article)
+ View
Centres
Homeschool, micro-school, learning centre, unregistered private
+ View
Important considerations when starting a learning centre
+ View
There are various ways to find learning centres. Since there is
+ View