Meetings between homeschoolers & government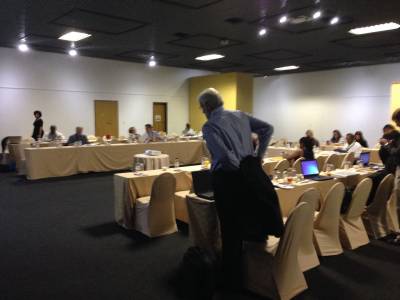 The first day of this meeting was experienced very positive by all parties. The representatives of the homeschooling community were positive, because they received ample time to state their case. Sufficient opportunity was given to address concerns that were raised during the discussion sessions.
The chairman of the meeting was dr. Simelane from the Department of Basic Education (DBE). All parties with whom I spoke were very impressed with the fair and professional way that he managed the meeting. He also made a point of it to remind everybody on a regular base that the purpose of the meeting is to determine what is in the best interest of the children.
The homeschooling speakers, Johan & Linda Heckroodt (CHE), Elize van der Merwe (KZN) and Leendert van Oostrum gave excellent presentations. The Department of Education repeatedly mentioned that these presentations were well researched and provided valuable insights. The respondent to the legal presentation was by prof. Woolman from Wits University. He provided valuable insights into how the constitutional court would view things as parental rights, childrens rights and many other legal terms.
It is hoped that this good start will be a sound foundation for a long term consultative engagement between the homeschooling community and the DBE, that would eventually lead to a regulatory environment with which both parties are satisfied.
Legal & Research
The information provided by the media and government officials on the
+ View
Research consistently proves that homelearners perform better.
+ View
History of home education in South Africa   Home schooling (which
+ View
Centres
Support for learning centres SAHomeschoolers.org receives regular
+ View
Important considerations when starting a learning centre
+ View
Since there is no central registry of learning centres, they are
+ View
Q & A
There are a number of ways that homelearners can get a matric. The most popular form of matric is the academic matric. W...
There is no curriculum that is the best curriculum for all families. Parents must have a look at as many as possible cur...
The sahomeschoolers.org website has a list of selected free resources that are available, as well as a service where hom...