Slideshow Link Generator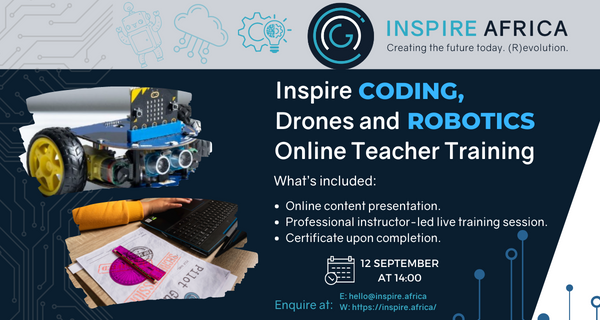 Inspire Africa promotes blended online courses which allow learners to gain new knowledge and skills about 4IR Technologies such as coding, drones, robotics, IoT and AI. 
In today's fast-paced world, it is vital to prepare learners for future career opportunities. This can be challenging as parents and teachers, but Inspire Africa delivers fun interactive courses for your child, empowering them in the use of cutting-edge technologies.
Being passionate in upskilling students with the relevant skills for their future, we are proud of our STEAM-based curriculum which incorporates 4iR technologies; Drones, 3D Printing, Coding and Robotics.  STEAM education is a collaborative approach where 4IR technologies are integrated across subjects like Science, Technology, Engineering, Art, and Mathematics.
It is our mission at Inspire Africa to accelerate access to affordable online courses.
We have created 6 unique online course offerings:
What do our courses include:
Professional instructor-led live online classes.
Hardware tailored to the course.
Access to various state-of-the-art coding simulators. 
A certificate upon completion.
Age appropriate from 10 years and upwards.

Click on the link to enrol your child in any of the next courses

Join us in our mission to prepare our children for the future.

Find out more by :
Visiting our website at Inspire Africa
Contact us on : 079 197 9951
Emailing us at : This email address is being protected from spambots. You need JavaScript enabled to view it. or This email address is being protected from spambots. You need JavaScript enabled to view it.
Creating the future today. (R)evolution.
Legal & Research
Research on home education consistently proves that home learners
+ View
Home schooling was recognized in 1996 in the SA Schools Act.
+ View
History of home education in South Africa (Wikipedia article)
+ View
Centres
Homeschool, micro-school, learning centre, unregistered private
+ View
Important considerations when starting a learning centre
+ View
There are various ways to find learning centres. Since there is
+ View