Slideshow Link Generator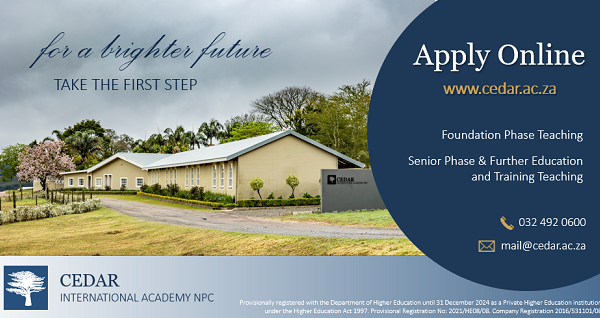 Cedar International Academy:
CEDAR was established in 1994 as a satellite campus of Potchefstroom Universiteit vir Christelike Hoër Onderwys. This was later changed to North-West University. During 2021, Cedar became an independent Private Provider of Higher Education, provisionally registered by the Department of Higher Education and Training (No 2021/HE08/001).
Cedar is a distinctly Christian organisation, founded on the understanding that the Bible is the Word of God and the basis for every activity and behaviour.
Mission

To provide higher education which upholds Christian truths and values, equipping graduates to lead effective and purposeful lives.

Vision
To develop and deliver programmes which serve the need of the local community

To produce graduates who are competent to serve in their field of study


To promote a solid grounding in professional standards and ethics for life.
Cedar currently offers:
Bachelor of Education in Foundation Phase Teaching (SAQA ID 115553)

, as well as

Bachelor of Education in Senior Phase and Further Education and Training Teaching (SAQA ID 119073)

, with major subject choices including Accounting, Business Studies, Computer Application Technology, English, Economics, Geography, History, Information Technology, Life Sciences, Mathematics and Physical Science
These courses have been accredited by the Higher Education Quality Committee (HEQC), and the qualifications are registered with the South African Qualification Authority (SAQA) on NQF Level 7. 
Please visit our webpage www.cedar.ac.za for admission requirements and subject combinations. 
The duration of the courses is 4 years full-time, on campus, situated on KwaSizabantu Mission, KwaZulu-Natal.
Applications for 2023 are still open until 30 November 2022
Events
+ View
+ View
Legal & Research
Research on home education consistently proves that home learners
+ View
Home schooling was recognized in 1996 in the SA Schools Act.
+ View
History of home education in South Africa (Wikipedia article)
+ View
Centres
Homeschool, micro-school, learning centre, unregistered private
+ View
Important considerations when starting a learning centre
+ View
There are various ways to find learning centres. Since there is
+ View