Maths & Science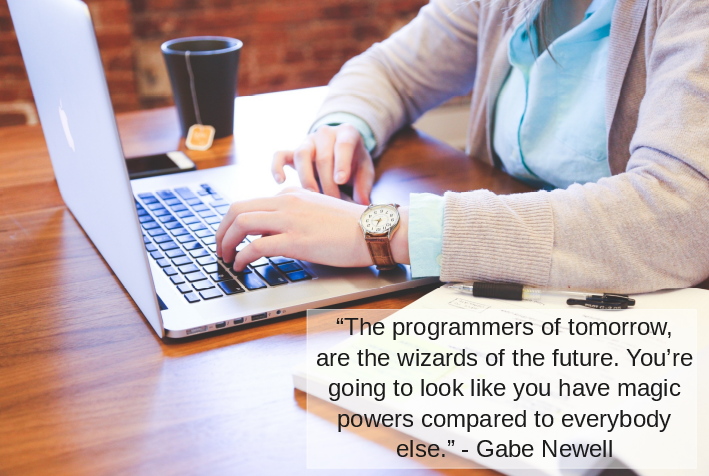 Gee u kind 'n voorspring in die 21ste eeu. "Python vir Kinders" is 'n kursus toegespits op kinders van 10 tot 16, in Afrikaans, om u kinders 'n voorsprong te gee in programmering.
Waarom is dit belangrik om te kan programmeer?
"The programmers of tomorrow, are the wizards of the future. You're going to look like you have magic powers compared to everybody else." - Gabe Newell. Programmering is een van die vaardighede wat die wêreld aan die brand het. Sedert Konrad Zuse in 1938 die eerste programmeerbare rekenaar, die 'Z1' voltooi het, het die industrie van programmering, digitale tegnologie en rekenaars ontplof en ontvou tot die reus wat dit vandag in ons ekonomie is. Volgens Forbes.com is die tien waardevolste besighede vandag as volg: Apple, Google, Microsoft, Facebook, Coca-cola, Amazon, Disney, Toyota, McDonnald's, Samsung. Sedert die rekenaar uitgedink is het ons werksomgewings heeltemal verander. Daar word daagliks nuwe werksgeleenthede geskep. As daar vandag soveel werksgeleënthede is wat deur programmering beheer word, hoeveel meer sal daar nie oor 10, 20 of 30 jaar wees nie? Programmering is werklik een van die heel veiligste, lekkerste, bevredigende loopbane wat daar is!
Waarom moet kinders vroeg begin?
Kinders word groot in 'n wereld waar programmeerbare tegnologie 'n baie groot realiteit is. Vir kinders om te verstaan hoe dit werk, en om dit self te kan programmeer is baie belangrik. Kinders wat van jongs af leer om probleme algoritmies op te los het ook 'n bepaalde voorsprong op ander kinders nie net in programmering nie, maar in lewensvaardighede as 'n geheel.
Waarom gee "Python vir kinders" 'n voorsprong?
Die kursus is aanlyn en eie-pas. Wat dit beteken is dat jy nie die kursus voor 'n sekere datum moet voltooi nie. Sodra jy die kursus gekoop het behou jy lewenslange toegang tot die kursus, en jy kan dit voltooi wanneer jy wil. Ons volg wel 'n 10 week kurrikulum, wat bestaan uit lesings, en huiswerk opdragte. (Die huiswerk opdragte is opsioneel) Indien jy die kursus geniet kan jy ook 'n sertifikaat bestel. As jy 'n sertifikaat bestel sal instruksies om 'n eksamen te skryf aan jou gestuur word, en indien jy die eksamen slaag, word die sertifikaat aan jou gepos.
Teen die einde van hierdie kursus, sal jy regte wereld probleme kan oplos deur gebruik te maak van logiese denke en programmering.
Jy sal gemaklike gesprekke kan voer oor programmering. Jy sal kan besluit of programmering vir jou is, en of jy dit moontlik verder moet vat. Etlike kinders het alreeds hierdie kursus voltooi, en hulle terugvoer oor die kursus was baie positief. Kinders wat hierdie kursus voltooi kan ook later meer gevorderde kursusse doen, en hulle het ook 'n bepaalde voorsprong bo ander kinders as hulle IT vat op skool.
Hierdie kursus is veral waardevol vir ons kinders, eerstens omdat dit in Afrikaans is, en tweedens, omdat dit vir die kinders 'n baie goeie begrip van werklike programmering gee. Verder is die kursus ook besonder lekker, en dit is baie sensionaal om die kursus te voltooi.
Hoe om in te skryf en afslag te kry?
As u inskryf via die SAHomeschoolers.Org webwerf, ontvang u 80% afslag en betaal slegs R300, indien u inskryf voor 1 Maart. Die prosedure om in te skryf is soos volg:
Kliek hier om na die webwerf van Toekomsweb te gaan.
Kliek op knoppie "Skryf in vir Kursus"
Vul jou verdere kontak –en -betalingsbesonderhede op die bladsy in, en kliek op "Skryf in vir Kursus" knoppie.
Indien u enige probleme ervaar, stuur 'n epos aan Pieter van Deventer by This email address is being protected from spambots. You need JavaScript enabled to view it.

Legal & Research
The information provided by the media and government officials on the
+ View
Research consistently proves that homelearners perform better.
+ View
History of home education in South Africa   Home schooling (which
+ View
Centres
Since there is no central registry of learning centres, they are
+ View
Support for learning centres SAHomeschoolers.org receives regular
+ View
Important considerations when starting a learning centre
+ View