Homeschool Curriculums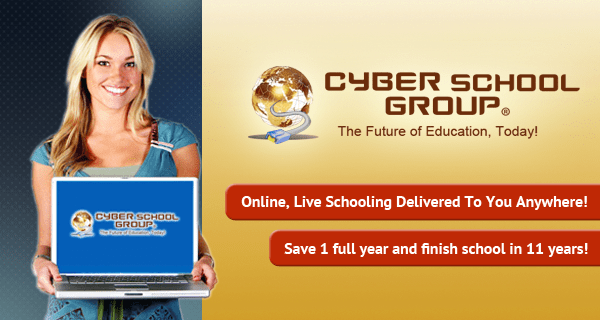 Online, Live Schooling Delivered To You Anywhere! Save 1 full year and finish school in 11 years!
Let your children "attend" school from home!
That's right, as long as you have an internet connection, school students can attend classes from anywhere!
Study the South African curriculum up to Grade 9 and then an American High School Diploma that is fully recognized in South Africa & Internationally!
Cyber School Group has, since its inception in 2011 provided a comprehensive teaching service that offers academic guidance and assistance, yet it is managed and functions like a school. This is in order to promote the learning process and create a formal, well structured environment for learning to take place. We use qualified teachers to help you teach your children with scheduled live classroom sessions according to a full time timetable, via the internet. We connect teachers with students that can be located anywhere and in any country, town or city, providing they have access to broadband internet.
So if home schooling was never an option due to your time or other commitments or you not wanting to be the only teacher, maybe it is an option now? Or if you have realized the reality that most students simply cannot do home schooling on a self study basis, you have found the right solution!

For further information please visit our website, http://cyberschoolgroup.com/ or contact our sales hotline on +27 (0) 73 666 3692 for a personal consultation to help ensure that you make the right selections that best suit your requirements.
Legal & Research
The information provided by the media and government officials on the
+ View
Research consistently proves that homelearners perform better.
+ View
History of home education in South Africa   Home schooling (which
+ View
Centres
Since there is no central registry of learning centres, they are
+ View
Support for learning centres SAHomeschoolers.org receives regular
+ View
Important considerations when starting a learning centre
+ View